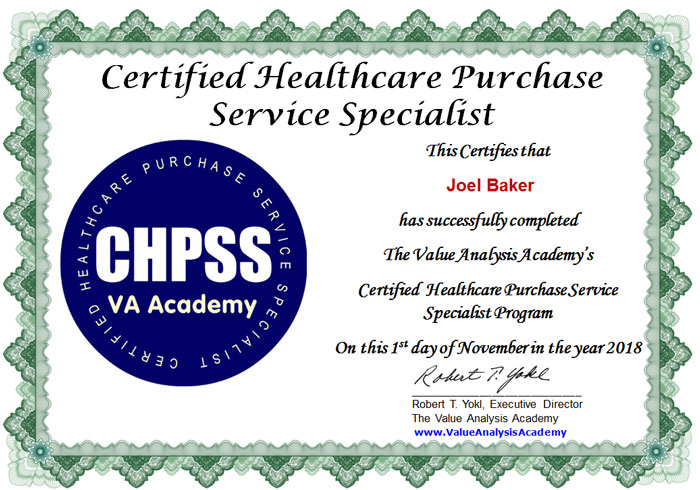 VA Academy – a leading training and educational provider to the healthcare supply chain and expense reduction community has launched its Certified Healthcare Purchase Service Specialist Program.
Skippack, PA – The purpose of this program is to empower Supply Chain Professionals at all levels to achieve higher proficiency and recognition in healthcare purchase services. The goal is to fast track supply chain professionals to become experts in purchase service benchmarking, analysis, reporting and value analysis project management.
Bringing Over 31 Years of Purchase Service Experience to the Program
"We have worked with so many hospitals and health systems throughout the country over the past 31 years and have developed quick and efficient systems, processes and best practices that we want to share with the entire healthcare market," says Robert T. Yokl, Executive Director of the VA Academy and longtime purchase service expert. Yokl continues, "This is more than just throwing a blanket over all purchase services with new contracts, it is about wringing the towel dry on all purchase service costs to achieve next level sustainable savings."
 Highlights of the Certified Healthcare Purchase Service Specialist Program:
Discover an additional 10% to 18% in new purchase service savings from total budget spend
Learn the advanced strategies and mindset to be successful with healthcare purchase services
Master the value analysis process that you can employ universally on any and all purchase services in order to wring the towel dry on savings and value improvements
Learn how to benchmark your purchase services in order to not only find big price savings but utilization savings as well
Learn all of the best practices that SVAH has compiled over the past 31 years that will fast track your purchase service management program
Improve your outcomes on all your purchase service contracts and initiatives
Understand how to avoid dry holes on what purchase service savings opportunities will be worth your time to review and which will not be
Help your organization to dramatically improve quality of services and gain better overall value
Be Recognized as an Expert in Purchase Services by Your Boss and Peers
Once candidates have completed all five modules of the program and complete the certification test (passing grade of 70% or higher), a certificate and a lapel pin will be sent. Users will also be provided with actual benchmarking and utilization management spreadsheets to start their analysis right away.
With the added skills, techniques and systems in their toolbelts, Supply Chain Professionals can be strategic with their savings and service improvement strategies instead of guessing which opportunities will lead to the biggest savings opportunities. Combined with the VA Academy Leaders' 31 years of experience in Purchase Service Management, Cost Reduction, Benchmarking and Utilization Management, this will be a home run for the specialist who completes this program.
Related Posts: